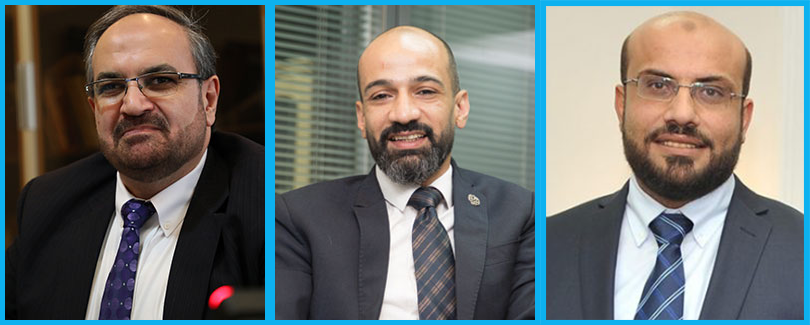 A Word from The Founders
Today's global language, translation and content [LTC] industry is transforming into an enormous marketplace, with ever-increasing demand for industry experts like translators, interpreters, copywriters, content designers and developers, desktop-publishing specialists and, essentially, the bilingual or multilingual business connoisseurs.
The Arab world is not an exception to the phenomenon; knowing that our region has always been the driver for significant global-change events. However, the Arab LTC industry infrastructure is presently too fragile to cater for the emergent global and regional demand for LTC experts. Reports from renowned organizations highlight a widespread market gap between supply and demand, ultimately due to the gap between the labor market requirements and the didactic paradigms.
Hence, there stands a dire need for proficient industry-driven training service that would comply with the international standards to leverage the region's human capital into a mainspring for the region's sustainable development. This is typically the mission of Elaph's decision to vertically expand its market-reach into the LTC training business. Having a recognized position as excellent provider in the regional translation and content service market for more than 10 years, we could simply analyze the negative bearings the lack of competent translators, editors and writers have triggered.
In response, and after foresightful planning and consultations with leading advisors, we initiated and founded Elaph Training to become the region's most uniquely-positioned and industry-driven training academy. Our strategic goal is to help the Arab individuals and corporations to build their topnotch LTC competences so as to unravel their prospects of development and growth.
Whether you are in the LTC business and seek out the advancement of your existing human capital, a freelance professional in pursuit of better career performance, a venture capitalist exploring the LTC industry with investment appetite, a regional or global organization having interest in the MENA LTC industry, I trust we are well prepared to pool resources for our mutual success in a challenging environment.
Elaph Training | Founders
Instructors
He is the General Supervisor, He is the Head of the French Language Department at the Faculty of Languages and Translation of Al-Azhar University. Through his rewarding career, Dr. Osama occupied various positions: the General Supervisor of Al-Azhar Observatory, Dean of the Higher Institute of Languages, and Dean of the Higher Institute of Al Alsun. Pro...
She is the Legal Translation Acting Manager , Shaima graduated from the Faculty of Al Alsun, English Language Department, Ain Shams University, and she received her AUC Diploma in Professional Translation, some years after. Shaimaa worked with the United Nations Organization as a translator and also worked with some NGOs in Egypt and key translation com...
He is a Linguistic researcher/ proofreader. Mohammed graduated in 1999 from the Arabic Language & Literature Department, Faculty of Arts - Ain Shams University. Before joining Elaph Translation in 2012, he worked for more than ten years with prominent publishing and research firms besides ancient manuscripts verification centers. He contributed to p...
He is the Head of Desktop Publishing (DTP) , Alaa graduated from the Faculty of Tourism and Hotels, Menoufia University in 2013, and has 3 years of experience in the field of desktop publishing (DTP). Alaa was awarded the Adobe foundation certificate (Photoshop, Illustrator and Indesign) , and he performs desktop publishing tasks using various programs ...
He is the Translation Manager. Sorour graduated in 1977 from the English Literature Dept., Faculty of Arts -Alexandria University. He received his initial training in media translation at a well-known news agency. In 1979, he joined the procedures and organization Dept. of the biggest petroleum company in Egypt at its Cairo HQ and Red Sea oil fields. In...
He is the Lecturer of English Language ,After receiving his MA degree from the Faculty of Languages and Translation, Al-Azhar University in 2013, Dr. Majed was awarded his PhD in English Literary Criticism in 2015. He received his Diploma in Applied Linguistics back in 1998 after he graduated from the Department of English Language, Faculty of Arts, Cai...
Hoda has extensive expertise in translation, localization and media content writing. After graduating from the Faculty of Alsun -Ain Shams University, she started her career with the global leader in Arabic language technology and solutions, as a senior linguist since 2002. She positively contributed to machine translation vanguard suite, before ot...
Head of proofreading Dept. Saber graduated in 1995 from the Arabic Language & Literature Department, Faculty of Arts - Ain Shams University. He taught Arabic for more than 15 years and worked with famed translation companies in Egypt, reviewing and proofreading Arabic texts. He participated throughout his career journey in many didactic and trainin...
Mahmoud Myhoub is the Legal Translation Acting Manager at Elaph Translation. Following his graduation from the Faculty of Al-Alsun, Ain Shams University in 2005, Myhoub undertook hundreds of translation projects for many highly esteemed organizations. He joined Elaph in 2010 and since then he has had many contributions to the legal translation proc...